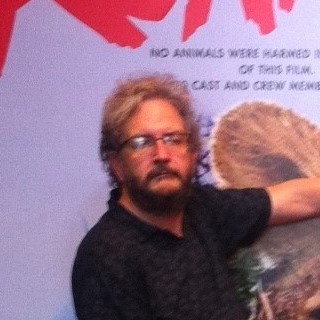 Interviewed by John Wisniewski
Could you tell us about writing your latest Vampires psychic energy. What interested you in this subject?
My first serious interaction with the "occult" was the popular neo-shamanism of the 1980s – glowing light bodies perceived with the aid of drugs and a rather media-driven idea of energy (owing more to Star Trek than say the Vedas). When I had cleaned up my life, foresworn chemical aides and was seeking to explore human potential while keeping jobs and marriage I began exploring ritual magick in the context of the Temple of Set. The Temple's Order of the Vampyre utilized "empty hand" methods involving attention, passion, glamour, atmosphere etc. The earlier (somewhat manic) methods I had used were directly applicable here WITHOUT drugs. I began a hybrid method of the Order of the Vampyre's approach, legitimate scholarly studies of shamanism and my wild youth to develop an eclectic and pragmatic approach to the notion of energy magick. I taught it privately to my own students (beginning about 1991) and decided to teach it to a larger group.
When did you become interested in occult subjects, Don?
The Unknown knocked on my door three times. As a child I was entranced by occult media and became proficient in scaring my chums by performing seances. Puberty came and with other interests. In my early twenties I played with neo-shamanism – with mixed results. The most disappointing thing was seeing that all the humans I met with similar interests either were without morals, mentally ill or rationally impaired. I performed a Working of the Intention, "Send me to a Teacher or I'm done." When I was 23. Economic circumstances sent me to Austin, Texas. I foreswore any occult/esoteric activities for six years, then a set of coincidences lead me to meeting. Dr. Stephen Flowers.
When did you write your first book?
My first book was Uncle Ovid's Exercise Book which won the Fiction Collective prize in 1989, judged by Rodolfo Ayana. My first occult book was The Seven Faces of Darkness a study of Set-Typhon in the Greek Magical Papyri which came out in 1994.
Please tell us about Overthrowing the Old Gods Aleister Crowley and the Book of the Law? What did Aleister want to tell us about writing Book of the Law?
In 2004 a rather silly thread of emails appeared on an internal mailing list of the Temple of Set abut Crowley. In order to clear up some misinformation I responded with 31 short essays about notions that I perceived as important but overlooked or misunderstood about Aleister. I assumed that would be more or less my final word on the subject. My Teacher, Dr. Flowers ran a small press (then called Runa Raven Press) and I brought out a chapbook of these essays called The Fire and the Force. Dr. Flowers had a rather unscrupulous associate who told me that almost no copies of the chapbook sold and I pursued other lines of study. However a small group of Setians wanted to explore the notions in my mini-book and asked me to provide a platform to explore these ideas. I created a temporary study group (called an element in Setian jargon) to explore these ideas from the point of view of philosophy, pragmatics (or in today's lingo "success magic"), and scholarly Egyptology. We did a 93 day working (31 days for each facet) and shared our results with the Temple. The members asked for a second 9g3 day Working, devoted to Set, Horus and Mehen (one of the forms of the conjoined Set-Horus entity). . I upgraded the Element into a permanent group the Order of the Hawk Faced Lord. I pitched a book on our ideas to Inner Traditions including a commentary on the Book of the Law, one of the few forbidden acts in Thelema.
Aleister needed a message from Beyond – he was about to give up the occult and start a normal married life. His honeymoon in Cairo was a last fling. Yet going to the King's Chamber of the Great Pyramid with its airshaft aimed at the Big Dipper, or as the Egyptians would say the Thigh of Set, he aligned his inner needs and a cosmic purpose perfectly. Getting a revealed text is the first part. Changing your life by decoding such a text through word, thought and especially deed is the second part. Teaching others your insights is the third part. Then presenting them with your text is the fourth part. If your students can then use the text is the fifth part. Only in all of these can we say Aleister was trying to tell us something – the same message he was trying to tell himself. His message was:
a. Work on developing yourself, be hard
b. Use the fruits of your labor to improve mankind
c. While you do this, the universe will present you mysteries
d. Pursue those with the same unbending intent as in "a" above
e. Eventually an infallible internal oracle will arise
f. Trust that oracle over social conventions and received ideas
g. If you do so Victory is inevitable although difficult
h. Methods of the East (especially yoga) and the West (Especially Golden Dawn) will help. Drugs and dirty, dirty sex will also help.
i. In the meantime let me have your wallet, arse and girlfriend
j. I am a better poet than Yates
k. Spell "magic" as "Magick" there's some great multi-lingual puns and numerology involved – trust me I am the Great Beast
A-G is pretty dead on. I-K is a little questionable.
When did you join The temple of Set, and could you tell us about writing
Mysteries of The Temple of Set?
I joined the Temple of Set in 1989. The Temple takes years to work through its grades, with the exception of Dr. Flowers, who obtained the Grade of Magus in seven years and – um me, who obtained the Grade of Magus in seven years and became the High Priest in 1996. The Temple had shunned publicity – so when an anti-esoteric backlash called the "Satanic Panic" began there was nothing about us in the world – making us a target for the most lurid tabloid remarks. As High Priest I decided to address some misconceptions plus add certain aspects of my Utterance of Xeper, the eternal word of Set, I wrote a few essays plus added a selection of my columns from the church newsletter the Scroll of Set. _Mysteries of the Temple of Set_ is the third volume of my Teachings as Magus. The others are The Seven Faces of Darkness, Uncle Setnakt's Essential Guide to the Left Hand Path, and Uncle SetNakt's Nightbook_. The first deals with Set and Set-Typhon in Antiquity, the second with the transcendental branch of the Western Left Hand Path, the third with the basic theology and ontology of the Temple of Set, and the last deeply esoteric related to the other three as well as an examination of my own revealed text, The Book of the Heb-Sed. With _Overthrowing the Old Gods_ I began a new set of Teachings connected with my role of Ipsissimus.
Please tell us about writing Starry wisdom. What interests you about
the writings of H. P. Lovecraft?
In 1982 I took a class called "Writing the Science Fiction Story." You could get an "A" by writing a story or doing a research paper. I found writing a story to be much easier so I produced a dreadful Lovecraftian pastiche "Diary found in an Abandoned Jeep." Submitting to a magazine brought an instant offer of publication – which never actually occurred, but did lead me to try my hand at Science Fiction, Fantasy and Horror writing Over the years I've stories in Amazing, Analog, Asimov's, Interzone, Weird Tales (and hundreds of other places). Lovecraft appealed to me deeply because he: A) wrote in a variety of styles from lyric fantasy to science fiction B) utilized the idea of forbidden books and forgotten ruins C) helped put other writers D) created strange hoax-like situations by putting his ideas into the stories of other writers, borrowing other writers' mythologies, and letting us friends use his and E) using a character named Webb in "The Call of Cthulhu."
Lovecraft's highly alien, beyond good and evil, blend of weird magick and strange science is very appealing for the human magician bored with conventional occultism. I have had a few collections of my Lovecraftian tales issued. The Washington Post said you should read my latest collection Building Strange Temples and frankly who am I to argue with the Washington Post?
What will your next book be about, Don?
I just turned in the manuscript for _A Year of Living Magically_ to Inner Traditions, It is a year-long training manual. I am working on a book of magical theory and a biography of Dr, Michael A. Aquino as my next two esoteric projects, although I may write a book on writing horror fiction based on my horror class that I've taught annually since 2002 at UCLA Extension.